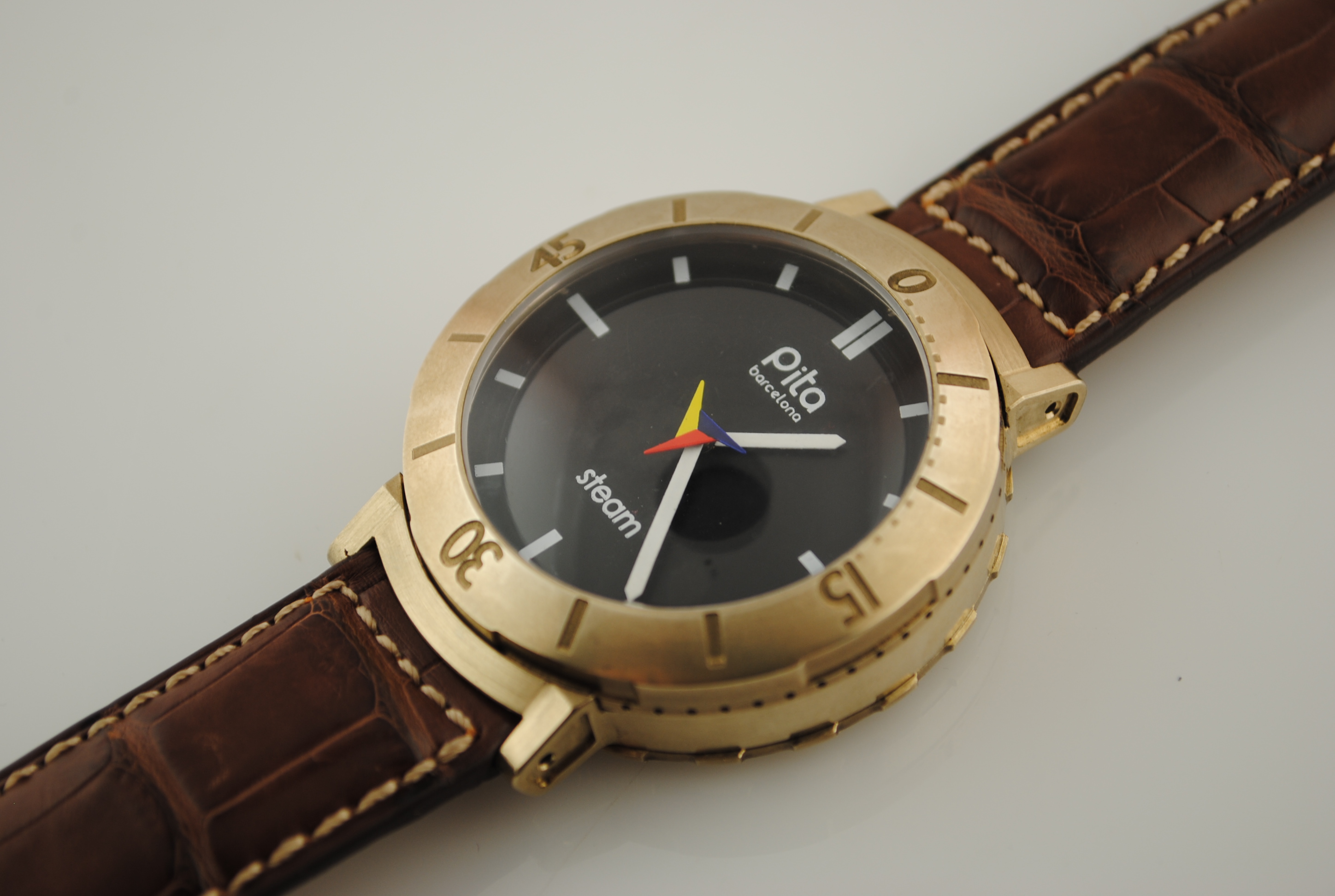 Pita is not as much a "Brand" as he is Mr. Pita. Mr. Ancieto Pita, is a self-taught watchmaker, living and working in the home of Gaudi, Barcelona. Mr. Pita and his son, Daniel, run a small workshop in Barcelona. Daniel handles the day to day business affairs and communications. Mr. Pita is the watchmaker and designer.
Mr.Pita is a member of the prestigious Academy of independent watchmakers, the AHCI. Mr. Pita prides himself on discovering new outlooks and innovations for his mechanical watches. The watches are all visibly fresh and smart. Each watch has it's own unique set of complex innovations that appear simplistic through the dial, but are anything but. The "Oceana" is a dive watch that looks simple enough from first view. A closer inspection reveals that this dive watch, capable of super depths, is unique to itself with multiple unique patents to prove it. The Oceana features no winding crown. The winding crown is the most significant weak point on a waterproof watch. Mr.Pita has chosen to eliminate it, allowing the user the opportunity to set the watch via a unique,patented, setting ring at the bottom of the case. The Oceana uses an automatic calibre and ultra-thick convex lens. The Oceana is produced in Grade 5 Titanium, with a variety of finishes and combinations. The Oceana has also been produced in precious metal as well. We are all pleased to annouce that we our now delivering the Oceana "Steam" in marine bronze! No matter which version, a super dive watch for every adventure! Pita recently released of the "Roadster" chronograph in Spring 2015. The first edition of this unique 'Bullhead" chronograph is aluminum alloy and now a titanium version joins the collection. The Roadster is designed top to bottom to eschew racing genetics. The pushers meld flat to the case and appear like race pedals. The orientation of the dial is "upside down" with the chrono zero-ing at "6". The running seconds appear through an aperture where a disc with the seconds indication runs behind. The entire appearance of the dial is as a Speedometer or a gage. A great design, which promotes our race fantasies, even while we're behind the desk!
Keep your eyes peeled for more from Pita soon. Mr. Pita. The workshop is now enabled with a new CNC machine. New creations and combinations are becoming more possible on a daily basis.
The newest Bronze Steam and Roadster Chronograph (in aluminum or titanium) are proof positive of this. The Minimal and Carousel are now available with various lug profiles and in Bronze, Stainless Steel or Titanium!