EPSA called them MONOFLEX crowns and they were an integral part of the whole concept:
"Grands fonds" inner turning bezel featuring a second crown for (dive) bezel manipulation (Brevet 350250)
(Super) compressor or EPSA-STOP bayonet compressor case back sealing mechanism
MONOFLEX crown (brevet 337462)
When analysing the watches before starting the development, it was apparent that the crowns of the old watches never were screw down, yet 200m (20 bars) water tight. This seemed odd, and Sherpa researched to find out how this actually worked in detail. As EPSA went out of business in the 1980s, and until today nothing remained, it was difficult to find out more about this. But sometimes luck is needed, so a book was found, about EPSA written in French which challenged our school French quite a bit, and it gave hints for further steps for our research. Eventually the Sherpa team discovered Swiss archives where some documents could be found outlining details about the crowns. The old EPSA patent itself (Brevet 337462) was not sufficient enough – as could be expected. Patents should protect, but not educate too much! But then fortune struck…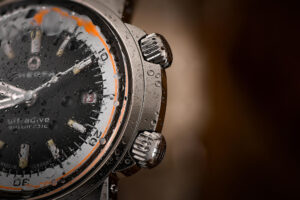 Finally, when researching in an archive the team found a drawing of the crown and incredibly enough, also found the internship report of EPSA's technical head's daughter, Mrs. Rondez. This young woman spent some time inside of EPSA and had to write a detailed report about it. Many of us know how tedious it was to write these kind of reports, and now the team were on the receiving end. The team at Sherpa can only thank her to have put down her experience! It taught Sherpa everything they needed to know.