May 08, 2022
By martinpulli — Comments Off

on Kieser Design
Kieser Design = Matthias Kieser of Frankfurt, Germany.
Matthias Kieser has a unique road to independent watchmaking.At least, a more unique path than most independent watchmakers. Matthias did not begin his career as a dedicated watchmaker, yet he attended Technical University of Munich, where he achieved a Masters degree in courses of business and mechanical engineering. Upon graduation, Matthias went into finance as an analyst, where he enjoyed the mathematical and analytical elements of his daily work. Watches always fascinated Matthias Kieser and he found himself doodling new ideas for cases and dials during his free time until it became an obsession. A little workshop ensued and the obsession for design began to manifest into protoyping. The obsession has led Matthias out of the world of finance, into the start of his own registered company in 2019.
Matthias Kieser grew up with a father who taught him how to work with power tools from a young age. He was shown the value of what it means to work accurately. In university, lessons in the methods of product development and engineering led to the CAD design and the techniques for manufacture. Mr.Kieser
learned how to design watchmaking basics, like designing a gasket for waterproofing and how to calculate milling speeds for a milling machine. "All Theory is Grey" , a German expression that book learning is not practical knowledge, means that Matthias needed to practice a lot! A lot needed to be learned from scratch via the cumbersome process of trial and error to become proficient with manufacturing techniques and processes necessary to manufacture a watch from scratch.
The ideas for the first watch are what really intrigue me about Kieser Designs. I work with many independent watchmakers and most are very focused of the ideas of traditional design and traditional daily dress wear watches. It's more rare to see independent watchmaking where the focus is completely on sport. Matthias Kieser has a unique outlook on a modern sport watch.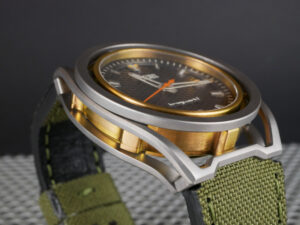 Traditionally, we see two primary avenues for sport as a commercial genre, Aviation and Diving. Matthias has a more unique approach that he's produced a watertight watch, which is not a diver, yet really a "Sport Utility Watch". Although, I am not really trying to define it. The "Tragwerk.T" is the result of a lot of long hours of prototyping. Matthias really wanted to bring color to the world of high-end watches. The primary issue of colors is that colors are yielded by coatings and all coatings are susceptible to scratching. The solution, comes from the natural world. Matthias Kieser sees the Dragonfly as a the ideal to emulate. The dragonfly has a body that consists of an extremely lightweight exoskeleton. The wings are also ultra-light, because they are made of a sophisticated network of struts. Tragwerk.T combines these ideas from the natural world into high tech modern manufacture. A hard anodized (with colors) titanium inner case is matched to an ultralight titanium exoskeleton, which neatly protects the colored surfaces!
Kieser Design Tragwerk.T begins as a solid cylinder of titanium. In the Kieser Design workshop the  titanium is milled into case components. The case components are cleaned and finished by hand, yielding a variety of finishes for each unique component.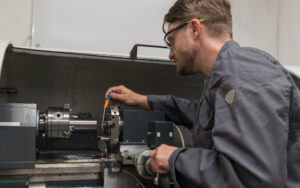 Inner cases and movement rings are anodized into colors. Dials and dial indexes and handsets are also produced and finished in the workshop. The dials each mimic the dragonfly's compound eyes. 300 tiny honeycombs provide shimmer in various colors, while the hand polished titanium indexes flash in contrast,
highlighted by hand laid luminous emulsions. Putting it all together requires countless manual steps to become a Kieser Design Tragwerk.T. The automatic calibre of choice is Swiss, high grade and finished with black ruthenium. Matthias has designed his own rotor balance, in color choices, which is 25% lighter than a typical rotor balance. Each, is fitted with an 18kt gold weight with an optimized center of mass. The skeletonized titanium rotor balance provides an unobstructed view to the movement, while continuing the honeycomb theme, provided by nature to Kieser Design.
Each Tragwerk.T may be made to order. Kieser Design feature a 'Configurator' which allows you to mix and match ALL of the aesthetic details, online at your leisure. The possibilities are almost endless! Even the unique hi-tech straps are customizable! Matthias Kieser has developed a model which gives infinite choice to the client…imagine that. …And, there are ideas in the pipeline for a "dress" watch and even a chronograph version of the Tragwerk.T! Time, as always, is the only limiting factor for this new ultra-creative manufacture!
Kieser Designs Watch Configurator !
https://en.kieserdesign.de/konfigurator#/
KIESER DESIGNS TRAGWERK.T
KIESER DESIGN Manufacture
Kieser Design- Matthias Kieser brand message