October 16, 2013
By martinpulli — Comments Off

on Meistersinger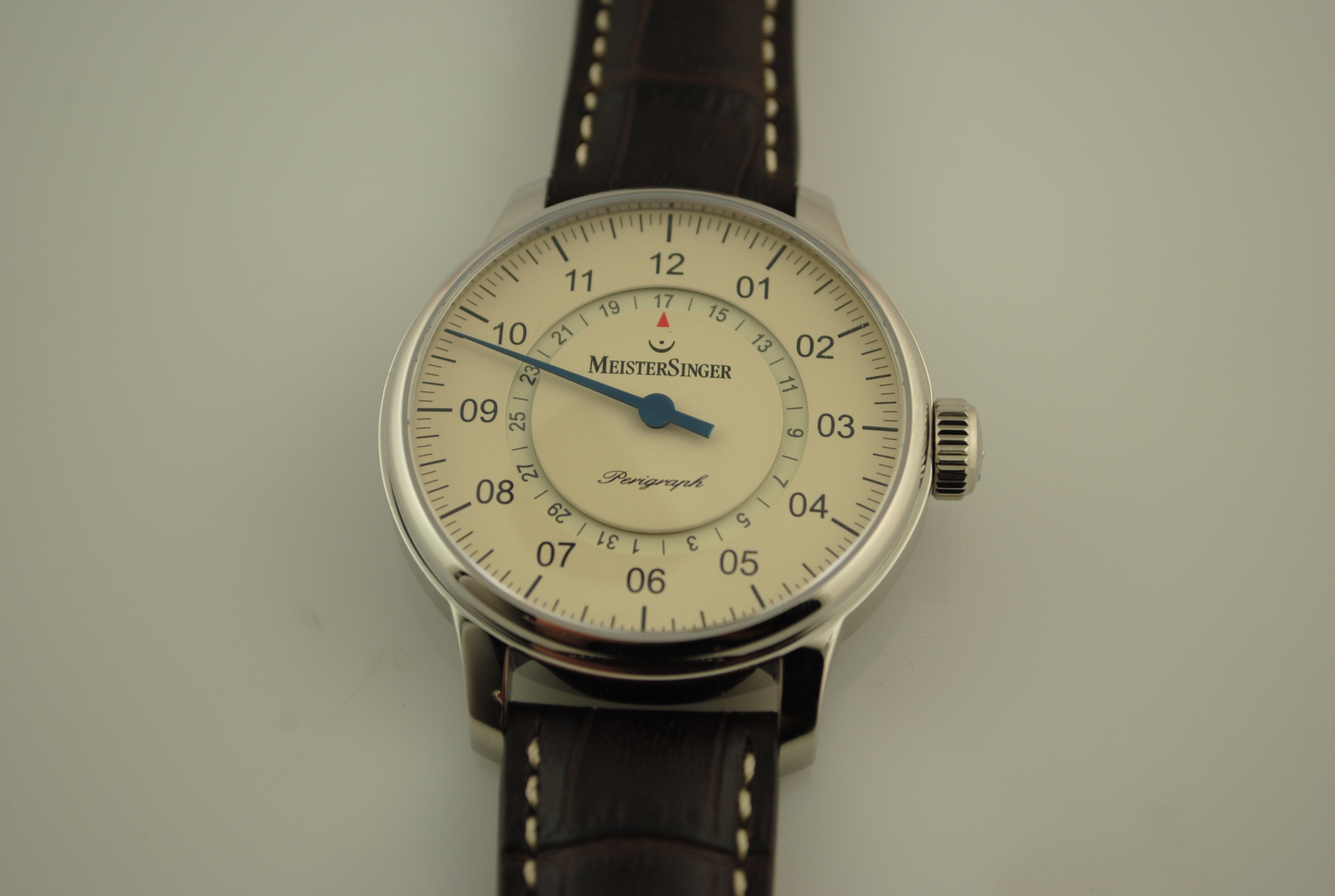 Manfred Brassler – founder and designer of MeisterSinger Watches,launched the brand in 2001. Despite the trend towards increasing complexity of many modern watches, he wanted to go back to the basics of the art of watchmaking and create a simple measuring instrument at an affordable price – clear, consistent and balanced. The growing success of the brand is a testament to a mission accomplished, which is particularly highlighted by the fact that the concept remains as fresh today as when it was introduced more than 10 years ago. Meistersinger draws inspiration from early clocks, all of which operated with just a single hand.
The name MeisterSinger (German for "master singer" has its origins in the Middle Ages, when singers organised in guilds took part in singing competitions in southern Germany. Whoever came up with a "new sound" was crowned MeisterSinger of the year. The fermata – the pause symbol in musical notation – is part of the logo of MeisterSinger, and it stands for the brand's relaxed approach to time.
The company has its headquarters in the harbour area of Münster, dubbed the creative mile of the city. Since 2006, the MeisterSinger team has been enjoying views of the Dortmund-Ems Canal and the branch of the harbour. As a German company, MeisterSinger stands for high-end design and together with a partner in Switzerland Meistersinger produces high quality, distinct Swiss-made watches.
For more information : http://www.meistersinger.com
Distinguished Awards:
MeisterSinger N° 01
red dot design award 2004
iF Design Award 2004
Monograph
iF Design Award 2008
red dot design award 2008
Perigraph
red dot design award 2009
Singular
red dot design award 2009
Singulator
red dot design award 2010
Meistersinger Edition 366 (and Granmatik)
Meistersinger Edition Bell Hora
Meistersinger Perigraph Ltd. Edition (Yellow)
Meistersinger Lunascope
Meistersinger No.3 Full Black
Meistersinger Metris Blackline
Meistersinger NEO Plus (40mm)
Meistersinger- No.1 (Handwound w/solid caseback) No.2 (Handwound w/display back) No.3 (Automatic w/display back)
Meistersinger Salthora Jump Hour (40mm)
Meistersinger Salthora Meta Jump Hour
Meistersinger Salthora Meta X-diver
Meistersinger Pangaea
Meistersinger Pangaea Day&Date (40mm)
Meistersinger Perigraph
Meistersinger Circularis
Meistersinger Circularis-Automatic
Meistersinger Circularis-Power Reserve (handwound)
Meistersinger Benjamin Franklin "4 Hour Watch" Limited Edition
Meistersinger Paleograph- Monopusher Chronograph (column wheel)