October 08, 2014
By martinpulli — Comments Off

on Meistersinger-Circularis
"Dear friends of special timepieces,
The idea of the single-hand watch embodies an attitude of relaxed, self-determined time perception. We firmly believe that good things need time in order to become even better than before. We too have taken our time to proudly present you with a milestone in product development: the Meistersinger Circularis, featuring the new MSH01 movement. For us it means a lot more than "merely" another watch in the range. The technical finesse of this movement is the cornerstone of a new family of Meistersinger Circularis wristwatches that feature both new functions and models. We invite you to get to know the facets and distinctive features of our latest masterpiece."
Manfred Brassler,
founder and designer "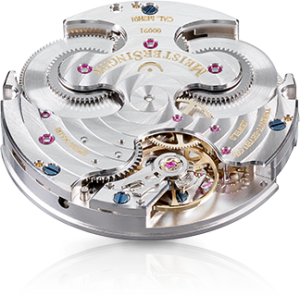 The MeisterSinger team put its heart and soul into creating the new MSH01 movement. The designers at a Swiss partner firm (Christopher Ward's team headed by master watchmaker Johannes Jahnke)developed the Circularis in close cooperation with MeisterSinger in the finest Swiss watchmaking tradition. It took three years to attain the exacting standards of both partners in terms of modern watchmaking. The result is bound to amaze you.

The unusual geometry of the bridge, which was specially designed for the Meistersinger Circularis, lends the movement its inimitable appearance. The meticulous attention to detail is also shown in the finishing: The elaborate circular graining, the beveled, highly polished chamfers, and the engraving with gold inlay make the movement a pleasure to behold.
MSRP $5,695
Cirularis Silver dial:

Circularis Blue dial: