October 09, 2019
By martinpulli — Comments Off

on Kudoke – Kudoke 2
Big news at Kudoke with the Kudoke 2!
Kudoke is upon an exciting year, with numerous developments and news at KUDOKE is becoming even more exciting now. Stefan Kudoke has joined the AHCI (www.ahci.ch) as a candidate and launched the model "KUDOKE 2", from his HANDwerk-line in Basel. Kudoke 2 is exactly the watch, which has been nominated for the Grand Prix d'Horlogerie de Genéve (www.GPHG.org).
At GPHG high-quality creations are highlighted and rewarded with the coveted trophy every year in order to nurture the advancement of watchmaking as an art. Therefore, six competing watch models in each of the 14 categories are pre-selected by the top-class jury. The pre-selected models take part in the rest of the competition as well as the various exhibitions, where watch enthusiasts can experience those timepieces at different locations around the world.
Based on KALIBER 1, Stefan Kudoke developed and executed a modification on the dial side of the movement, facilitating a 24-hour indication at 12 o'clock. The hand finished movement – KALIBER 1 in version 24H – is visible through the sapphire caseback.
At the front, the eye is caught immediately by the rotating domed sky disk. Handengraved and electroplated in three colors it demonstrates the familiar creativity of Stefan Kudoke. A small gold-plated triangle indicates the hour of day or night. But even if you can only take a quick glance at the watch, the upper half of the 24-hour-indication shows intuitively the currrent day or night time.
The dial quietly remains in the background, combining roman as well as arabic numerals on the two rhodium plated rings overlain.  The attentive observer, will be drawn by their eye to find the infinity sign, included in the hour hand. The hand engraved balance cock on the movement is a symbol of time itself, interpreted as deceleration and relaxation, due to the non-existence of a seconds-indication.
USD$ 10,740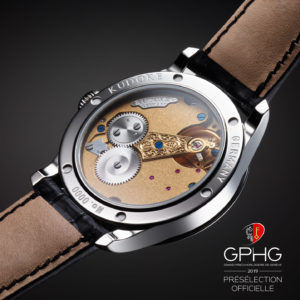 "After more than 10 years I refined my skeletonizing skills to peak and found myself in a positon, where I wanted to develop my watchmaking skills further. To use old techniques and keep the practical know-how of traditional watchmaking alive, has always been very important to me. In the not too distant future our labor work will be characterised by robot technology and computer-operated production, also in manufacturing mechanical timepieces. But what will generate value and emotions in this future? What will people appreciate? Interchangebale products, fabricated by anonymous machines or handmade masterpieces created by humans for humans?"
[Stefan Kudoke, master watchmaker]
Kudoke – Kudoke2 "Bluebird" Edition by Martin Pulli ($11,900)
Kudoke2-Deep blue dial
Kudoke2 Bright (white) Mother of Pearl Dial
Kudoke2 Black dial (and a variant of Black dial with rose handset/indicator)
Kudoke2 18k Rose Gold with black dial
Kudoke2 -salmon dial
Kudoke2-frosted silver dial
https://www.kudoke.eu/about-kudoke.html