March 21, 2015
By martinpulli — Comments Off

on Squale Dive Watches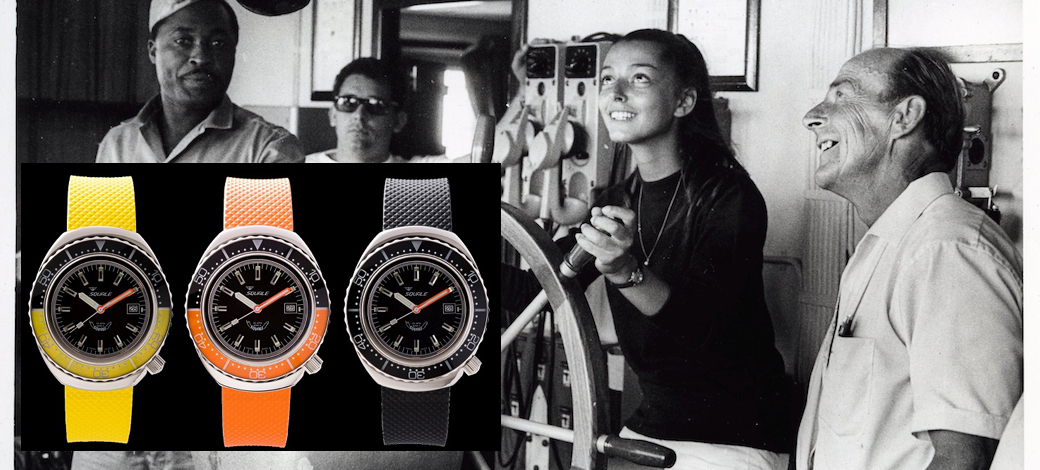 Squale Dive watches come from the great Swiss tradition of precision watchmaking, combined with a love of the sea and diving, were the two factors that led C. Von Büren to work exclusively on the construction of professional divers watches from the early '50s. Initially the "Squale" mark appeared on the cases of Swiss watches of various makes, as a sign of fine production and a quality symbol.Then, in the '60s, Von Büren started to produce watches that also had the Squale mark on their dials, starting the brand?s institutional and commercial history.

The first sporting successes, such as the world diving title won in Cuba in '68,
were linked to the names of products that had become as legendary as the medium, Master 50 atm. The '70s saw the birth of the first "1000 metre" watch with glass on flexible mounting and snap-on lunette which could be turned in both directions.Squale continued to produce for other brands and started to supply the elite corps of a large number of armed forces, including the parachutists of Italy's Folgore Brigade and the Italian Navy's Diving Corps.All this has made Squale synonymous with quality and the benchmark brand for divers' watches internationally, a status it has enjoyed for several decades.
1950
Charles and Hélène von Buren found the watchmaking firm called von Buren SA at Neuchâtel, Switzerland. They soon turn their attention to the then virtually unexplored field of watches for professional divers and start to produce reliable, tough, high-quality watches under the "Squale" brand. Their daughter, Monique, becomes caught up in the business and through testing these watches she becomes a fine swimmer and expert diver, and subsequently a marine biologist.
In 1959, with the ideas and under the supervision of Charles, the company von Buren SA registers the Squale trademark and obtains its first patent for the construction of a diving watch case. Having a reliable diving watch was an essential factor for a diver at that time.
In those years, watches were still the only devices available for use during dives to calculate diving times, and were considered as amongst the most essential technical items for a diver's safety.

1967
Von Buren SA produces more and more sophisticated watches and starts to place the Squale logo on their dials,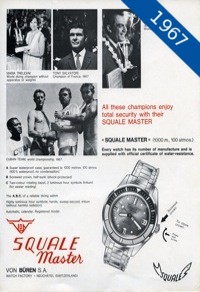 beginning the brand's international and commercial history. During these years, thanks to its watches' impressive reliability, safety record and international prestige, Squale sponsored a large number of international sports competitions and was always worn by top divers including Jacques Mayol, Enzo Maiorca and Giuliana and Maria Treleani. It was during these years of sporting successes that Squale also introduced its first 1000 metre diving watch with Plexiglas glass and snap-on lunette, the "Master".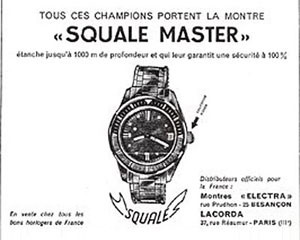 1970
French diver Jaques Mayol, known as the Dolphin Man,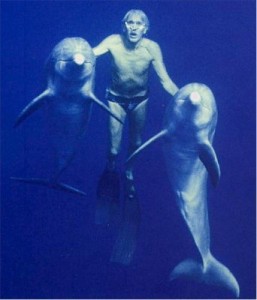 broke the world breath-hold deep diving record on several occasions wearing Squale watches. In 1970, for example, he was wearing a Squale when he set the record of -76 metres in Japan. Jacques Mayol (whose life provided the material for a film by Luc Besson, Le Grand Blue) lived with the von Buren family for some time, a period when he was also practising yoga,
a technique which considerably improved his physical performance in a manifestation of extreme personal strength.

1988
Squale continues it's traditions with the birth of the Tiger model, which has become a dive watch cult classic.
Squale Diving Watches in 2015
The great Swiss tradition of precision watch making, combined with solidity and durability: as tradition demands, the case is made throughout from Swiss 316L steel.The components are all Swiss, too: winders, winder sleeves and gaskets. These are essential parts for a watch that has to withstand high pressures and salt water. Watches are painstakingly assembled by master watchmakers, taking the greatest care over the fitting of the gaskets and ensuring that the case is airtight; this then undergoes strict checks, with regard to both resistance to water and timekeeping accuracy. Quality tests are performed on every single watch and not on a sampling basis. Last but not least, the movement's reliability is certified by the fact that Squale had been a direct customer of the ETA Factory at Grenchen, guaranteeing that all movements are of prime quality.
Integrity, professionalism, experience and passion. To make unique, inimitable watches, elegant, minimalist design and high-tech materials are not enough… the secret of our watches lies within, in the way they are designed and constructed: friends of the sea, because they are immune to brine, and faithful companions of the most demanding divers, because they are reliable, always.
Pricing:
Master Steel $2,600
Master Bronze $3,000
2002A $1,500

Squale Master Bronze Green

Squale Master Bronze Grey
Squale Master Stainless Steel Blue
Squale Master Stainless Steel Grey
Squale 2002A Black-Black